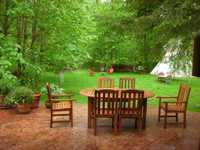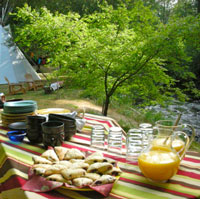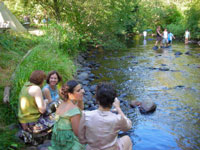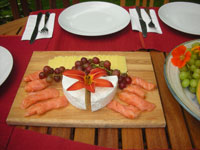 About the Retreat

Tipi Village Retreat LLC is a haven away from the ordinary. Located in the Mohawk Valley near Eugene/Oregon, Tipi Village Retreat is perfectly positioned for adventure. There are beautiful day-trip destinations to the North, East, West, or South — may they be on two or four wheels. With its secluded woodland setting, its unusual mix of dwellings (five tipis, and the Master Bedroom Suite), and its friendly hospitality - it provides an ideal setting for group retreats, family reunions, weddings or commitment ceremonies, celebrations of life, workshops and other overnight events. It is a great place for any adventurous traveler wanting a unique lodging experience. ( watch the video tour )
The Covid pandemic has caused problems for all types of businesses, ours included, but since meals have always been served out-of-doors, we're still able to provide our usual level of services to guests. Meals will not be served buffet style to limit exposure due to the pandemic. Food will be served by staff.
Please note that weekends for the 2023 season are mostly booked for events, and we are still accepting guest bookings August 3rd, 4th and 5th. To book a stay, please call 541-933-1145 to confirm availability and set up your booking.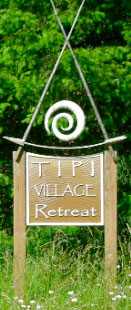 The tipis are furnished in a Zen style. They have beautiful stone floors with rugs, warm and comfy beds with down comforters and wool blankets for the cool Oregon summer nights. For a more traditional sleeping experience, there are the cabins or the rooms. All tipis and cabins have access to a centrally located bath house with two full bathrooms. The Master Bedroom Suite and the Studio have their own private bathrooms. There is an additional bathroom available in the main house.
Breakfast is served either by the creek or on the patio. Your stay includes a wholesome gourmet breakfast of organic free-range eggs, smoked salmon, breads, hot cereals, fresh fruit, milk, yogurt, orange juice, coffee and tea. Ken also cooks up some amazing Spanish Paella feasts in the outdoor kitchen. Dinners are available by prior arrangement.
We also offer Reflexology and Yoga sessions for guests, for details and pricing, check the Other Activities menu.
Time takes on a different meaning out here. You feel yourself relax into a slower pace – into the here and now of birds singing and water flowing. - If you sit still, you can observe the wild flock of quail, the occasional pheasant or the wild turkeys and deer coming through on their daily routes. In the spring we see elk bulls grazing at the edge of the forest, and in the fall Oregon Chinook salmon swimming upstream in the creek. - If you sit still, you will experience nature's silence and stillness. You will find an atmosphere of respect amongst these tall trees. Respect for the Land, the Keepers of the Land, all Living Creatures, and for Mother Nature.
"It is a paradise, a sanctuary for the soul." (Mireille Pertusot, August 2007)
"Sleeping in the tipi under that hide was so much fun, the paella was amazing, and I know that the children were nothing less than enchanted by the paths through the woods... hearing about your place was what made my older daughter decide to come with us that weekend – so I had her there for my marathon, thanks to you!" (Ona, with Eamon, Sophie and Maeve, May 2008)


May the Warm Winds of Heaven blow softly on your home,
and the Great Spirit bless all who enter there.
May your Moccassins make happy tracks in many snows,
and may the Rainbow always touch your shoulder.

--Cherokee Prayer Blessing