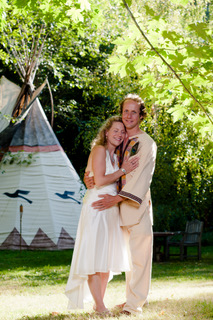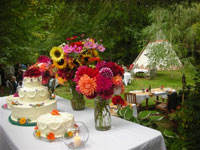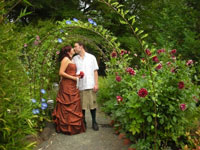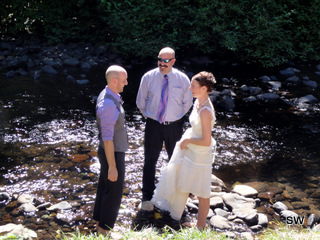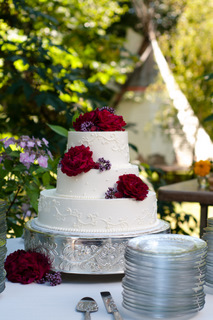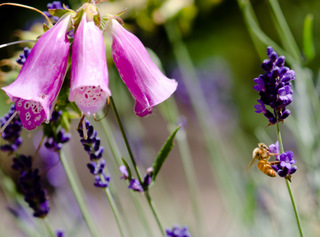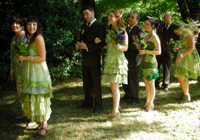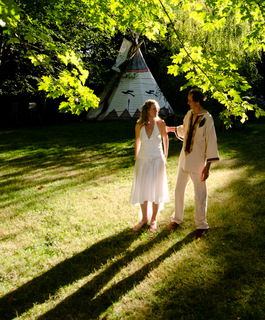 Destination Weddings & Commitment Ceremonies

We want your wedding to be a dazzling and memorable experience!

Days filled with love and laughter, with friends and family – with beauty, memories and meaning. The tall trees will be your gateway to a new life together, and the photos will always tell your story.

Watch Coby & Annelise's wedding video from July 2012

Imagine inviting your closest friends and family members to stay with you at the retreat for two nights. Share a Paella with them at the Rehearsal Dinner before the big day. Sit around the fire and reminisce. Then, after a deep restful sleep, you start your day off with a hearty breakfast and you still have plenty of time to put all the last pieces together before your guests arrive for the ceremony by the creek or under the big tree. Celebrate into the night. Wake up refreshed the next morning to share one more meal with your friends and loved ones before you take off for your honeymoon - just the two of you!

Wedding Package Features

Wedding party size up to 100 people. Bed and Breakfast accommodations available for up to 25 guests.

Two nights and three days, starting at 1:00 PM on the first day and ending at 1:00 PM on the third day.

Use of all accommodations at the retreat - can house up to 25 people - includes full breakfast each morning for all guests staying at the retreat. (Extra breakfasts for drop-ins available at $15 per person)

Use of the entire facility during your stay, including creek front, gardens, hot tub, fire pit and all other amenities.

Parking assistance on the day of the wedding.

Total Cost for Bed and Breakfast accommodations and Wedding Package is $5500. Please note that this does not include costs of catering, equipment rentals, photographer, flowers, etc. (Tipi Village Retreat will be happy to provide catering, please enquire for details)

Please give us a call to discuss this package in more detail, we want to help make your special day memorable!

Tipi Village Retreat
39615 Wending Road
Marcola, Oregon
541-933-1145
info@tipivillageretreat.com
www.tipivillageretreat.com


Dear Tipi Village Hosts
We cannot sing enough praise or express enough gratitude for all that you did for us! That weekend was magical, romantic, fun, all the food! We wish we could have made it all last longer, it was SO beautiful. You land, your home, has such positive vibrations - we could never find a better place if we looked for a thousand years!
Thank you! Thank you! Thank you! Thank you!
Much love,
(Laurel and Collin, 2009)
AMAZING doesn't even begin to explain it. All of your hard work - tiling the hot tub 'til the wee hours of the morning, constructing Crazy Horse, creating that fabulous menu of fresh, scrumptious food, and just plain being the most gracious of hosts made our wedding weekend P E R F E C T.
( Stacy Talbot, 2011 )

Humankind has not woven the web of life.
We are but one thread within it.
Whatever we do to the web, we do to ourselves.
All things are bound together.
All things connect.

Chief Seattle, 1854